With last weeks wave of chiffchaff filling the local woods with their definitive call I was pleased to hear the same call on a bright Saturday morning from my backdoor step in the middle of the village. We usually get a singing male at some point in the spring although they do not often call for long. I guess that despite living next to some mature trees with bramble and ivy entangled smaller trees and bushes, that the more rural setting outside the village makes a more attractive breeding territory.
Chiffchaff Credit: NickWakeling via Compfight cc
The chiffchaff was competing well with the local chaffinches and collared doves but then I heard another call, a distant memory of last summer which sounded like a garden warbler.The garden warbler is notable in the birds of Hethersett for its absence so this was unlikely but I checked the call on my birdguides ap. just to bring my spring ears up to speed and the call was spot on. The call was so good that the bird immediately flew up into the pear tree above my head and called back at me. Unfortunately the bird was a mere silhouette suggesting no markings which supported the sighting but was far from definitive more misfortune was that I had no time to hang around and wait for a better  view.
The video below (courtesy of the BTO and partners) highlights the difference between the two birds and identifies the challenge of identifying them by call.
Whilst I was out, there was help on hand from a number of twitter followers who had pointed out the fact that the Garden warbler should not be in the country for few weeks yet as clearly shown in the attached Birdtrack Graph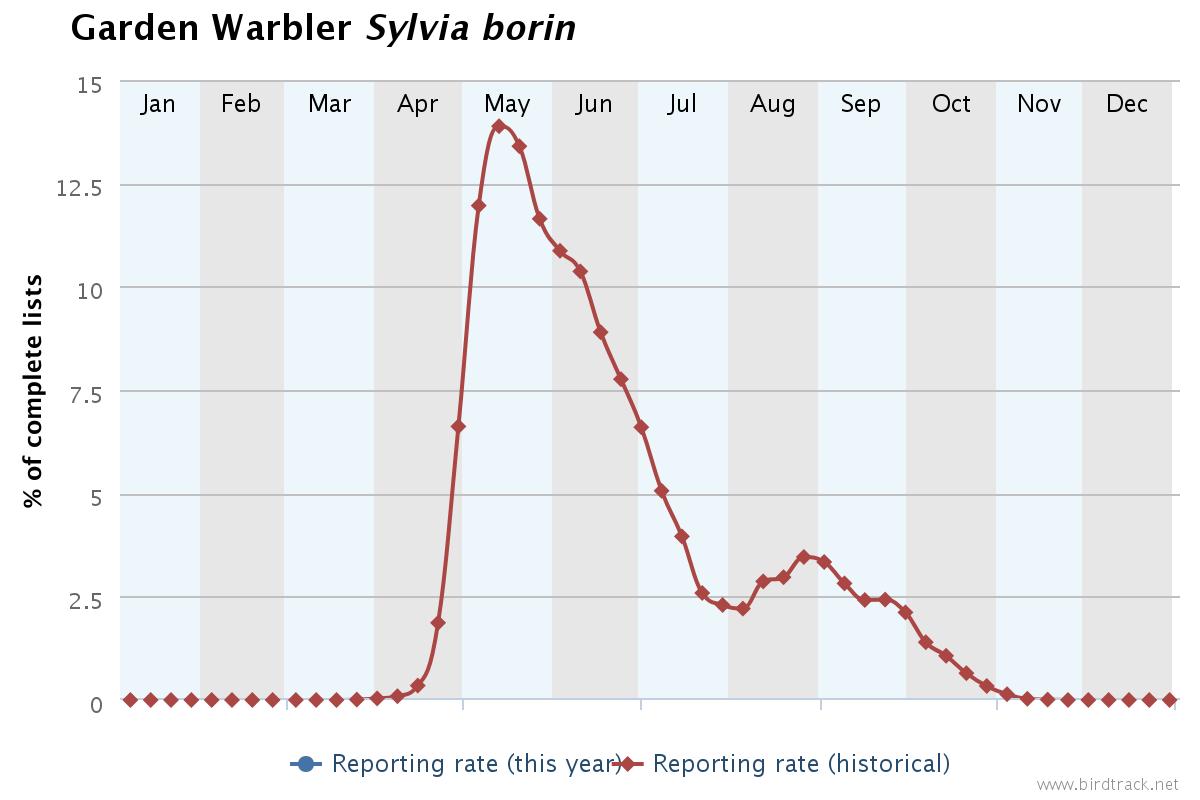 After a few hours I returned to the garden hoping to catch up on my exceptional sighting however nothing was singing other than displaying greenfinches and a few woodpigeons taking a break from eating fruit tree buds. I waited patiently and was eventually rewarded by warbler song, however this time it sounded very blackcap and sure enough singing high up in a nearby ash tree was a male blackcap the first of the year. In the absence of any other warblers I shall have to remain content with the blackcap with its pleasant bold fluted call and wait to add the garden warbler to the local patch list.
Male blackcap Credit: Jangada2011 via Compfight cc